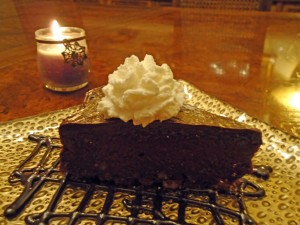 In this month of hearts and flowers, many speculate as to the romantic properties of chocolate. Mayan murals show chocolate being poured for the rulers and gods. Interestingly, the Latin name for the cacao tree (Theobroma cacao) means "food of the gods". The ancient Aztecs believed that chocolate invigorated men and caused women to lose their inhibitions. After chocolate was introduced to Europe in the early 16th century, it soon became a desirable luxury item. In the mid-1800's, commercial chocolate bars became available, and this decadent treat has since made its way into our daily lives.
Is chocolate an aphrodisiac? Opinions vary; however, one thing is certain — eating chocolate does make us feel good. First, its "melt in your mouth" properties create a luxurious and silky sensation — mmmmm. Second, it contains tryptophan (although in small amounts) which helps our brains make serotonin — a natural chemical that produces the feeling of ecstasy. The there's phenylethylalanine and theobromine which can produce feelings of attraction, excitement, and a "buzz" ~ but again, these are found in small amounts in chocolate. I think it's best to do your own personal research. I suggest that you make my Chocolate Mousse Cake, serve the one you love, and see what happens!
Chocolate Mousse Cake
Serves 12 to 16
Crust:
1½ Cups Finely chopped pecans (or your favorite!)
3 Tbsp Unsalted butter, melted
½ tsp Cinnamon
Filling:
2½ Cups Semi-sweet chocolate chips
1 Cup Whipping cream
4 Eggs
1/8 Cup Flour
¼ Cup Sugar
Zest of 1 large orange
1 Tbsp Grand Marnier (or other orange-flavored liqueur)
Glaze:
1½ Cups Semi-sweet chocolate chips
½ Cup Heavy Cream
½ tsp Pure vanilla extract
1 Tbsp Grand Marnier (or other orange-flavored liqueur)
To prepare the crust:
Combine pecans, melted butter and cinnamon, and pat in a greased 9″ springform pan to cover bottom and 1/2″ up sides. Set aside.
To prepare the filling:
Heat the cream and chocolate chips in microwave or in a saucepan over low heat until chocolate melts. Remove from heat and let cool slightly. Transfer to bowl of electric mixer or food processor and blend until smooth. Add eggs and beat well after each. Add flour, sugar, orange zest, and liqueur. Beat again to combine well. Pour into springform pan and bake at 325-350 for about 35 minutes. Remove from oven. Chill.
To prepare the ganache:
Prepare glaze by melting chocolate in the cream in a microwave or on the stove. Stir until smooth. Stir in the vanilla and the liqueur. Remove chilled chocolate cake from springform pan and place on cake rack. Pour glaze over cake, letting it cover sides. Return to refrigerator until serving time.
Garnish if desired with additional orange zest and/or chopped pecans. Slice thin (with a hot knife wiped between cuts); this is extremely rich! This cake is wonderful when garnished with whipped cream.