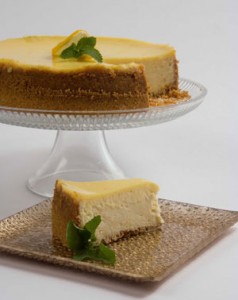 Serves 12-16
Crust:
1 ¾ Cups Biscotti crumbs or vanilla wafer cookie crumbs
2 Tbsp Sugar
3 Tbsp Unsalted butter, melted
Filling:
32 oz Cream cheese, softened to room temperature
1¼ Cup Sugar
4 Eggs
¼ Cup Lemon juice
2 Tbsp Lemon zest
3 Tbsp Limoncello (Italian lemon-flavored liqueur)
Topping:
½ Cup Sour cream
½ Cup Lemon curd
¼ Cup Sugar
1 Tbsp Limoncello (Italian lemon-flavored liqueur)
To prepare the crust: Lightly grease a 9-inch Springform pan. Tightly wrap the bottom and sides of the pan with double thickness of heavy duty foil. In the bowl of a food processor, pulse biscotti or cookies to make fine crumbs. Measure out 1¾ Cups and place in a medium mixing bowl; store any remaining crumbs for another use. Add sugar and melted butter to crumbs in the bowl; mix well. Press crumb mixture evenly over the bottom and 1 inch up the sides of the prepared pan. Refrigerate while making filling.
To prepare the filling: Preheat oven to 350°. In a large mixing bowl, beat the cream cheese until fluffy. Add sugar and beat well. Add eggs, one at a time, beating well after each. Add remaining filling ingredients and beat until smooth. Carefully pour into the pan, taking care not to disturb the crust. Place filled pan into a roasting pan with 2-3 inch sides and fill with hot water halfway up the side of the Springform pan. Bake in the water bath for 50-60 minutes.
To prepare topping: In a small bowl mix topping ingredients together until smooth. Very gently place small dollops of the topping over the top of the hot cheesecake, and smooth with a rubber spatula. Return cheesecake (still in the water bath) to the oven and bake an additional 10 minutes. Turn oven off, but leave cheesecake undisturbed in the oven for 1½ hours longer. Remove the cheesecake from the oven and from the water bath. Cool completely and refrigerate until well chilled — best if overnight.
To serve: Carefully run a table knife around the inside of the pan to loosen any edges that might be clinging. Gently remove the outside ring of the Springform pan. Transfer cheesecake with an extra-large spatula or cake lifter to a serving platter. Slice with a knife dipped into hot water, dried, and wiped clean between slices. Garnish with lemon zest or thin slices of lemon and mint before serving.