The Dining Diva on the Radio and Articles
Molly Fowler is a contemporary writer for elegant dining and entertaining. Molly loves to cook and is on a personal mission to find the most exciting places, new culinary experiences, emerging trends and sensations.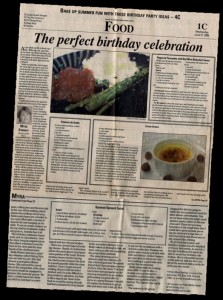 Molly is consistently chosen for her knowledge of and passion for the culinary lifestyle from to cookbook authors, expert wine-makers and food artisans, recipes and more.
Molly's articles are famous for:
Recipes Made Easy: Molly personally creates and tests all recipes that she publishes.
Presentation: As Molly personally prepares all of her recipes, all recipes are accompanied by beautiful, elegantly presented photos.
Well-Being: All of Molly's recipes are great, healthy recipes
Feature Articles: Molly produces feature articles that cover a broad range of topics guaranteed to be of interest to your readers. Molly can report on new culinary trends, new restaurants, travel destinations with important and exciting culinary experiences, advice about wine and wine pairings, and of course, amazing recipes — all tested and perfected in her own kitchen.