Molly Fowler, Gourmet Cooking Instructor
Molly Fowler, gourmet cooking instructor from Houston, makes appearances at special events, cooking schools, culinary centers, specialty stores, festivals and more. Ms. Fowler has appeared in classes across the United States where she regularly sells out her fun and lively classes at locations and specialty shops around the state.
Molly has recently been named a spokesperson for the Texas Department of Agriculture. Molly's skill, humor, and food artistry come together in presentations that provide a delicious serving of information and entertainment.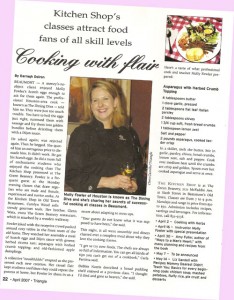 Don't wait any longer, call today and learn first hand what Molly can do for you or your business. She will be happy to discuss her service with you and answer any questions you may have.
Molly has provided cooking instruction in the following places: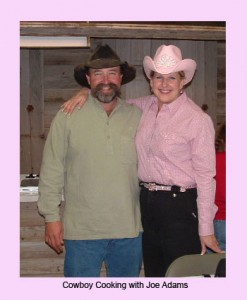 Houston Cooking School
The Cooking Depot
A Time and Place Bed and Breakfast
Frederickberg Food and Wine Festival
Cafe M. Bloomers
Runnymede Country Inn
L'Aglio Cookware Stores
San Antonio Central Market
Ker Kuchen Laden
Here are just a few of the many classes that Molly has to offer:
TAILGATING PLEASURES — Molly Fowler Molly Fowler, The Dining Diva HANDS-ON, Whether you're headed to the stadium or just to your couch, you'll be a hit with this menu: Super Spicy Shrimp Kebabs with Zesty Mustard Dipping Sauce Barbecue Short Rib Sandwich with Caramelized Onions on Beer Batter Buns Dilled Potato & Green Bean Salad Drunken Beans Chocolate Stout Cake
If you're interested in hiring Molly for your next food event, please contact us today!
You're in for a good time when you come to one of Molly Fowler's cooking demonstrations. Molly's uncomplicated approach to gourmet cooking creates fun and excitement for her students. She entertains from start to finish with her knack for demonstrating the latest and greatest cooking gadgets and gourmet accessories.  If Molly shows it in a class, it's going to sell!

"Entertaining with ease" centers on efficient time management — and Molly's all about gourmet gadgets and their labor-saving role in the kitchen.

Annette Rath–Owner/Operator, The Cooking Depot; Cuero TX
Molly,

I can't tell you how much my husband and I enjoyed the cooking class at Central

Market/Ft. Worth last night.  The food was delicious, cooking tips helpful, and you are an absolute delight. Food, wine, and entertainment – doesn't get any better than that.  I hope to take more classes from you in the future). I bought your cookbook when it first came out and knew I'd like anything that you fixed.  Thanks for the great evening.

Susan–Fort Worth TX