Happy New Year!
January 4, 2011 – I hope everyone enjoyed their holidays as much as we did! Ours was action-packed and full of family, friends, good food and drink, and lots of laughter! Our daughter, Kelly (aka The Golden Child), was home from Kabul, Afghanistan, for the holidays. Kevin and I needed nothing more to make our celebration complete!! Having my "baby" home made this mama happy, happy!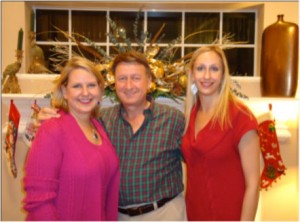 She had a list a mile long of cooking/dining requests; I was only too happy to oblige! We checked them off the list – banana bread, cinnamon rolls, margaritas and Mexican food at Alicia's Mexican Grill (290 & Cypress-Rosehill – yummy, in case you haven't been there!), ham, turkey and dressing, parmesan-crusted chicken with linguini and pesto sauce, limoncello cheesecake, and pecan pie, to name a few, and LOTS of wine!!
Kelly also requested (and got!!) poppy seed bread. I thought I'd share this easy and delicious recipe. It makes two loaves – one to enjoy now, and one for the freezer!
Kelly left on the afternoon of New Year's Eve, and Kevin and I went to Cuero to ring in 2011 with friends at The Venue. This is a gorgeous new event venue on Church Street – perfect for weddings, receptions large and small, or any celebration! The party was fun, the friends were great, and here we are in 2011!
It already looks as though this new year is shaping up to be a great one! I've got many new projects on the horizon. So go whip up some Poppy Seed Bread and stay tuned!!
Happy cooking!
Molly
Poppy Seed Bread
Makes 2 loaves
Bread:
2 Cups Sugar
1 1/8 Cup Canola oil (or pecan oil)
3 Large Eggs, beaten
3 Cups All-purpose flour
1½ tsp Table salt
1½ tsp Baking powder
1½ Tbsp Poppy seeds
1½ Cups Milk
1½ tsp Butter flavoring
1½ tsp Pure vanilla extract
1½ tsp Pure almond extract
Syrup:
¼ Cup Orange juice
¾ Cup Sugar
½ tsp Butter flavoring
½ tsp Pure almond extract
To prepare the bread: Preheat oven to 350°. Grease and flour two loaf pans (9X4X5).
In a mixing bowl combine the sugar, oil, and eggs. With an electric mixer (or by hand), beat well. Add the remaining ingredients and beat until smooth. Divide the batter evenly between the two prepared pans. Bake 55-60 minutes, or until a cake tester inserted in the middle comes out clean.
To prepare the syrup: Shortly before the bread is done begin preparing the syrup. In a small saucepan over medium heat, cook the orange juice with the sugar until the mixture boils. Reduce heat, and stir, and continue cooking until the sugar dissolves. Remove from heat and stir in the flavoring and extract. Immediately pour hot syrup over the hot loaves of bread while they are still in the pans. When the syrup has been absorbed, remove the bread from the pans, and continue cooling on racks. When completely cooled, wrap tightly or store in an airtight container. You can freeze these also!