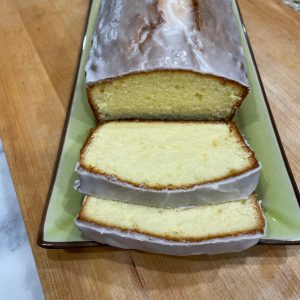 Classic Pound Cake
This classic pound cake from Baker Bettie's Better Baking Book is buttery, rich, with a very tight crumb structure. The simple flavor of butter and vanilla is an excellent canvas to pair with fresh berries and a dollop of whipped cream. Or use this as your go-to base recipe for creating endless flavors. The original pound cake got its name from the recipe that called for only a pound of butter, a pound of sugar, a pound of eggs, a pound of flour. Baker Bettie's version changes those ratios slightly and adds some sour cream for a cake that is a bit more moist.
Ingredients
215

grams

2 cups minus 2 tablespoons cake flour

¼

teaspoon

fine sea salt

226

grams

1 cup, 2 sticks unsalted butter, room temperature

300

grams

1 ½ cups granulated sugar

1

teaspoon

vanilla extract

200

grams

4 large eggs, room temperature

60

grams

¼ cup sour cream, room temperature
Instructions
Prep:
At least 30 minutes before mixing the batter, take the butter, eggs, and sour cream out of the refrigerator to come to room temperature. It is especially important that the eggs are room temperature for this recipe due to the large quantity. Measure out the rest of the ingredients.

Position an oven rack to the center position. Preheat the oven to 350°F/175°C.

Prepare your pan loaf pan with non-stick spray and parchment paper.
To make the cake batter:
Sift the cake flour. Add the salt, whisk together, and set aside.

In the bowl of a stand mixer fitted with the paddle attachment, or in a large bowl with a hand mixer, combine the butter and sugar. Cream together on medium speed until very light and fluffy, about 5 minutes. Stop the mixer and scrape down the sides of the bowl several times during mixing. The mixture should be very pale yellow after mixing.

With the mixer running, add the vanilla. Next, add in one egg at a time, mixing on medium speed and allowing each egg to fully incorporate before adding the next. Scrape down the sides of the bowl frequently. Do not rush this process.

Alternate adding the dry ingredients into the bowl in three additions with the sour cream in two additions, starting and stopping with the dry ingredients. Mix on medium speed in between each addition until fully incorporated.

Transfer the batter into your prepared pan and bake at 350°F/175°C for 55-65 minutes until a cake tester inserted into the middle of the cake comes out with moist crumbs.

Set the pan on a cooling rack and allow the cake to cool for 20 minutes before turning out of the pan to fully cool.

Wrap leftover cake in plastic wrap after fully cooled and keep at room temperature for up to 3 days.
Notes
Flavor Variation Ideas
Marble Pound Cake: Divide the batter in half and stir in 10 grams (2 tablespoons) cocoa powder into one half of the batter. Spoon each batter in the pan, alternating between plain and chocolate. Use a butter knife and swirl the batter to make a marble pattern. Top with chocolate ganache glaze (page ).
Lemon Pound Cake: Add 3 tablespoons of lemon zest when you are creaming the butter and sugar together. Mix 3 tablespoons of lemon juice into the sour cream before adding it to the batter. Top with a lemon glaze once the cake has cooled. To Make Into a Bundt Cake
Prepare a 12-cup Bundt pan or a 10-inch (25 cm) tube pan with non-stick spray. Add a few tablespoons of flour to the pan and tap it all around, dumping out any excess. Make a double batch of the batter (note, this will be a very large quantity and will require a mixing bowl at least 5 quarts in size). Bake at 350°F/175°C for 1 hour 10 minutes – 1 hour 20 minutes, until a cake tester inserted into the middle of the cake comes out with moist crumbs. Streusel Topping
Streusel is a crumbly mixture of flour, butter, and sugar. It often also has nuts and/or oats added to it as well. Streusel topping is most commonly used on fruit pies, a crisp, or a crumble, and should be added right before the pie goes into the oven. It can also be used to top muffins, batter breads, and cakes. Yield: About 1 ½ cups, enough for a 9-inch (23 cm) pie or cake, 1 batch of muffins, or a loaf of quick bread- double the recipe for a 9 x 13-inch (23 x 33 cm) pan
Prep Time: 5 Minutes
Total Time: 5 Minutes Ingredients
100 grams (½ cup) brown sugar, light or dark
100 grams (½ cup) granulated sugar
75 grams (½ cup + 2 tablespoons) all-purpose flour
1 ½ teaspoon cinnamon
pinch of salt
56 grams (4 tablespoons, ½ stick) unsalted butter, melted Method
In a medium bowl, whisk the flour, brown sugar, cinnamon, and salt together.
Stir in the melted butter and mix with your hands until crumbly. Variations
Oat Streusel: Add 50 grams (½ cup) rolled or quick oats to the mixture.
Nut Streusel: Add 50 grams (½ cup) chopped nuts to the mixture. Powdered Sugar Glaze
Powdered Sugar Glaze, also known as Flat Icing, is an incredibly quick and versatile topping to drizzle over muffins, batter breads, scones, and cakes. It is a simple mixture of powdered sugar and your liquid of choice to create any flavor you like. Yield: About ¼ cup- enough for a batch of muffins, scones, a sweet batter bread loaf, or a bundt cake
Prep Time: 5 Minutes
Total Time: 5 Minutes Ingredients
120 grams (1 cup) powdered, confectioners, or icing sugar
extracts, spices, or zests as desired
pinch of salt
28-43 grams (2-3 tablespoons) liquid of choice Flavoring Your Glaze
You can flavor your glaze in a variety of ways. For a plain glaze or a glaze flavored with an extract like vanilla or almond extract, choose milk as your liquid. Or you can opt to use a fruit juice like lemon or orange to make a fruit flavored glaze. Liquids
Milk (for a plain glaze or for vanilla or almond glazes)
Fruit Juice: lemon, orange, lime, cranberry, apple cider, etc… Extracts & Zests
(Use 1-2 if desired)
1 teaspoon vanilla extract
¼ teaspoon almond extract
¼ teaspoon anise extract
¼ teaspoon mint extract
1 tablespoon orange, lemon, or lime zest
Spices
(Use 1-2 if desired)
½ teaspoon cinnamon
½ teaspoon apple pie spice
½ teaspoon pumpkin pie spice
pinch of nutmeg, allspice, and/or clove Method
Place the powdered sugar in a small mixing bowl with the salt, zests, or extracts you are using.
Add the liquid into the bowl bit by bit, whisking until you have a thick glaze, about the consistency of honey. It should flow slowly off the whisk in a steady stream. If the glaze gets too thin, you can add a bit more powdered sugar to thicken it back up.
Store in an airtight container in the refrigerator for up to 1 week. Allow to come back to room temperature and rewhisk before drizzling. Flavor Variation Ideas
Citrus Glaze: Use orange, lemon, or lime juice as the liquid. Add 1 tablespoon of corresponding orange, lemon, or lime zest.
Vanilla Glaze: Use milk as the liquid and add ½ teaspoon of vanilla extract or vanilla paste.
Apple Cider Glaze: Use apple cider or apple juice as the liquid and add 1/2 teaspoon of apple pie spice.