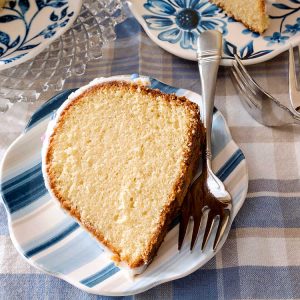 Jenni Field's Whipping Cream Pound Cake
This is a delicious, moist pound cake perfect alone or topped with fresh berries and a dollop of whipped cream
Ingredients
3

oz

. cake flour

about 3 cups, sifted, spooned, and swept

1

teaspoon

baking powder

12

oz

. cool butter

1 1/4

teaspoons

fine sea salt

12

oz

. sugar

about 2 cups

8

oz

. soft brown sugar

about 1 cup, packed

2

teaspoons

best quality vanilla extract

1/4

teaspoon

lemon extract

1/4

teaspoon

almond extract

5

eggs

beaten

6

oz

. half and half

3/4 cup

4

oz

heavy cream

, very softly whipped (1/2 cup before whipping)
FOR THE GLAZE
2

cups

10x sugar

confectioners sugar or icing sugar

pinch

of salt

1/4

teaspoon

a couple drops of lemon extract

a couple drops of almond extract

heavy cream

anywhere from 6-8 tablespoons, depending on how thick you like your glaze

Sprinkles of your choice

optional
Instructions
Preheat oven to 350F.

Whisk together the flour and baking powder. Set aside.

In the bowl of your stand mixer, cream butter along with the salt until smooth. Add the sugars and beat them together on medium until light and fluffy. Scrape bowl often. This will take about 7-8 minutes or so.

Add the extract and beat until all is well combined.

Drizzle in the eggs, a tiny bit at a time, scraping between additions and beating until completely incorporated. This will take about 5-7 minutes.

Add the dry ingredients and half and half alternately on low speed: dry-wet-dry-wet-dry.

Whisk cold cream until the whisk leaves tracks and the cream begins to thicken.

Gently but thoroughly fold the cream into the batter.

Put in a well-greased and floured 12 cup Bundt pan or tube pan and bake at 350F until deeply golden brown on top and firm to the touch. In my oven, this takes 1 hour and 5 minutes. Start checking at about 50 minutes and loosely tent with aluminum foil if it looks like the top is getting too brown.

Remove from the oven and let cool on a rack for 20 minutes or so. Make sure the sides are loosened, and then Turn Out onto a rack to cool completely.

Glaze is optional but lovely. Ditto, sprinkles.
Notes
Nutritional information does not include the glaze.
You can wrap this cake while still warm to keep moisture from evaporating out while it cools, but this cake is so tender and moist already, I usually skip this with this particular pound cake.
Well-wrapped, this cake will keep in the freezer for two months. Thaw, still wrapped, in the fridge overnight and then on the counter until room temperature. Unwrap and glaze.
You can wrap and freeze it with the glaze on it, but frozen glaze tends to get weepy once it thaws out. If you plan on freezing the whole cake, I suggest freezing it without glaze and then glazing it after the cake comes to room temperature.