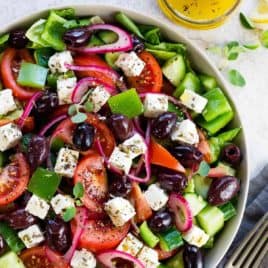 Greek Salad
A healthy Greek salad packed with crisp vegetables and creamy feta tossed in a tasty red wine vinaigrette dressing.
Ingredients
Pickled Red Onions
½

cup

58 g red onion ⅛-inch thick slices

¼

cup

60 ml red wine vinegar

2

tablespoons

30 ml honey
Salad
8

cups

234 g romaine lettuce ¾-inch thick pieces, about 2 romaine hearts

1

cup

143 g English cucumber ¼-inch dice

1

cup

160 g tomatoes ½-inch thick wedges

¾

cup

88 g green bell pepper ¾-inch dice

½

cup

64 g pitted kalamata olives

4

ounces

114 g feta cheese ¼-inch cubes
Dressing (makes about ¾ cup)
3

tablespoons

45 ml red wine vinegar

1

teaspoon

lemon zest

1

tablespoon

15 ml lemon juice

2

teaspoons

7 g minced garlic

1

teaspoon

5 ml Dijon mustard

1

teaspoon

5 ml honey optional

½

teaspoon

dried oregano

½

teaspoon

kosher salt

¼

teaspoon

black pepper

½

cup

120 ml extra-virgin olive oil
Instructions
To prepare red onions: In a small bowl, whisk together 1/4 cup red wine vinegar and 2 tablespoons of honey. Add the sliced red onions and allow them to sit for at least 15 minutes. Drain well before adding to the salad.

To prepare the salad: Rinse the romaine hearts under cool running water. Wash the surface and between the leaves to remove any dirt and debris. Shake well to remove moisture and dry using clean towels. Chop the lettuce into about ¾-inch pieces yielding about 8 cups.

In a large bowl, add the lettuce. Top with cucumbers, tomatoes, green bell pepper, drained red onions, kalamata olives, and feta cheese.

To prepare the dressing: In a medium bowl, whisk together red wine vinegar, lemon zest, lemon juice, Dijon mustard, 1 teaspoon honey (if using), minced garlic, oregano, salt, and pepper.

Slowly drizzle the olive oil into the dressing mixture, continuously and vigorously whisking until you achieve a thickened dressing—season with salt and pepper to taste. If not serving right away, whisk again right before adding to the salad as it may separate over time.

Right before serving, drizzle half of the dressing over the salad, gently toss to coat. Serve the remaining on the side. Garnish with more vegetables and cheese as desired.
Notes
Make-Ahead: The salad ingredients can be prepared 1 day in advance and stored in an airtight container in the refrigerator. It's best to make the dressing the same day. You can pickle the onions 2 days in advance.
Storing: Store salad in an airtight container in the refrigerator for up to 1 day as the lettuce will wilt once tossed with the dressing.
Onion Option: Omit the honey for a less sweet taste.
Make it Keto: Omit the honey from the pickles and dressing, or use a zero-calorie sweetener like stevia, monk fruit, or erythritol.