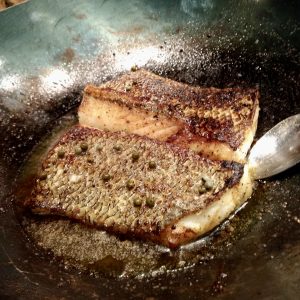 Wok Seared Chilean Sea Bass with Green Peppercorn Butter
A quick and delicious dish from Courtney Nzeribe
Equipment
You will need a flat bottomed carbon steel wok and a thin metal fish spatula.
Ingredients
1

lb

of Chilean sea bass filets with skin, 8 oz per person

about 3 inches thick

1

teaspoon

vegetable oil

Kosher salt

4- 5

tablespoons

of salted butter

2

tablespoons

of brined green peppercorns drained

Lemon wedges
Instructions
Cut your fish into 1/2 lb pieces if it's not cut already.

Pat your Chilean Sea Bass fillets dry and remove any bones that might have been missed.

Sprinkle Kosher salt on each side

Heat your carbon steel wok on high for few minutes with the vegetable oil.

When the wok is sizzling, carefully place the fish , skin side down .

Let the fish sear , skin side down , for a minute or two. The purpose is achieve a crispy skin.

With your fish spatula carefully turn the fish and cook on the other side for another minute or so.

At this point you can lower the heat to medium high add the butter, and green peppercorns. As the wok was extremely hot you want to take care to not burn the butter but brown the butter as the fish cooks. You can gently ladle the sizzling butter over the fish as it cooks.

Remove the fish with the spatula and plate , skin side up. Drizzle the butter and peppercorns on the fish .

Serve with mashed potatoes or vegetables of your choice. Garnish with lemon wedges.